In the time I have been helping real estate agencies to sell more on the Internet I have realized that there are many real estate agencies that start capturing properties and attracting clients online without having an action plan.
Creating a blog and social networks without a plan is a very common mistake and, without clear objectives and a detailed action plan to achieve them, the online business you are going to build is not going to get results and you are going to waste money doing advertising campaigns on Facebook and Instagram. If you want to have visibility on Google and social networks, it is essential to have a digital marketing plan.
What is a digital marketing plan and why do you need it?
A digital marketing plan is a document where you collect the objectives of your agency and the planning of actions and digital marketing strategies.
But how can it help you sell more?
Before starting any online advertising campaign you must know your current situation, how the market and the competition you face and have clear objectives in the short and medium term.
Most real estate agencies do not have digital marketing strategies to attract properties or attract customers on the Internet, which gives you the opportunity to stand out in your industry no matter how many years you have been in the market or the size of your team.
With a good marketing plan, you can receive calls from interested clients on a daily basis and sell two to four properties a month, so your business will be financially sound and you will have time to enjoy time with your family and friends and feel happy and fulfilled.
How to Sell Real Estate Online
1- Imagine for a moment that your real estate marketing apps receive hundreds of visits every day, visitors are interested in your services and products and contact you through your contact form and ask you for more information about a property or because they want to sell their property with you.
2- As soon as you receive the email with the request for information and contact details, you or someone from your team immediately contacts them to send them the requested information, clarify any doubts they may have, and transform them into potential clients.
3- In the next few days or weeks you schedule several calls and answer several emails to resolve questions, clarify doubts or expand information, you meet in person at the office to meet and talk about the process of selling their house or arrange visits to the property for sale and, in less than a month ... sale closed!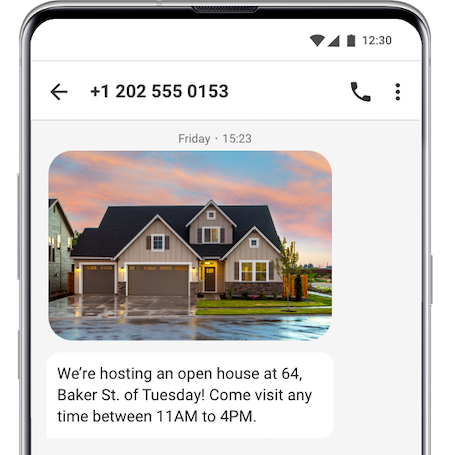 You have to know how to sell without appearing to be selling. And how do you achieve this?
● Your customers are on the Internet and you must be there to provide them with solutions.
● The key to selling more is to know your customer perfectly and know-how to offer them the perfect product or service for them at the right time.
● This process is becoming more and more important for real estate companies as most searches start on the Internet.
● It is already a fact that the search for housing on the Internet is displacing traditional media and an online presence is a must for real estate agencies.
● The work of the real estate agent is not obsolete, on the contrary, if the most important thing for your agency is the clients, now more than ever it is necessary to accompany your potential client in their buying or selling process through digital media.
● Now your potential customers have more information than ever at their fingertips, including that of your business, and it is necessary to develop a new online business model so that the buyer or seller finds your business and stays with you.
What is Inbound Marketing and how does it work?
Real estate inbound marketing is a strategy that, through interesting content, accompanies the potential client during their purchase decision process to inform them, give them confidence and help them in their decision-making process so that they are convinced that your service or product is the best solution to their problems or needs and that they want to make the purchase or sale with you.
How inbound marketing works:
● The pillar of this method is the real estate blog that has the function of capturing traffic interested in our products or services and converting those visits into contacts.
● The contents help to position your real estate web as an expert in the sector and generate trust with the potential client.
● In content marketing, the objective is to create a relationship of trust between the real estate and the buyer or seller client, positioning ourselves as the best option for a specific public.
Okay, once you have those visits, you get them where you want them to go so they end up buying from you, but how do those first visits get to your website? That's where the content marketing funnel comes in.
The Sales Funnel
A sales funnel or sales funnel is the name given in marketing to the different stages of the sale. It is the process by which we guide people who do not know us through the phases of the different sales, providing information and solutions to their needs until we stay with those who are really interested in our services and products and can become potential customers and end in a sale.
And where to look for those contacts or leads?
Surely you already know the answer. On the Internet. People spend their days on Facebook and Instagram (both from Facebook) searching on Google and watching videos on YouTube (both from Google) so if you want people to find you you have to have a presence on these media and be active on your blog and your social networks.
How to get traffic on the Internet
Although there are several types of web traffic, when it comes to getting traffic on the Internet we can talk about:
Controlled traffic: visits obtained through paid advertising, since you decide if you want to receive more or fewer visits by increasing or decreasing your investment in advertising.
Uncontrolled traffic: visits received on your website from search engines or social networks.
Conclusion
Now that you know that if you want to have sales every month you have to attract visitors to your blog and social networks, get them to leave you their data, interact with them by mail and finally make personal sales calls.
Only when you have a plan with all the necessary processes in place to guide your customers to a sales call, is it time to invest in Facebook advertising.
Analyze each phase of the sales process to know:
➤ The number of people who click on your ad to go to your blog or a page on your website.
➤ How many of those people go on to fill out the contact form.
➤ The emails needed to schedule a phone call.
➤ The calls and messages needed to get home visits.
➤ Calls needed to go over the sales contract.
➤ Responding to email inquiries to clarify doubts and questions.
The good thing about this is that over time you will get to know your customers better, their doubts or frequently asked questions, and you can anticipate them by including the answers in the emails to convince your customer to make the first visit, so they will be the ones who will give you the keys to what information they need.
The secret to selling more is to know perfectly how your buying process works.
Remember. It's just a matter of time. Every time you execute the process correctly you are going to win, whether it is a sale or information for the next time.
I hope I have clarified the importance of a good plan to sell and understand the buying phases of your customer to apply them in your online business. Now it's your turn to take the step and start applying this method.